Grumbles House Antiques
Phone (352) 465-1460
Grumbles House was a prominent family home on the edge of town in 1908, but is now a "happening place" in Dunnellon's Historic Village where southern hospitality greets you and reasonable prices and interesting displays bid you to stay. Antiques, gifts, home décor and handmade items fill the 10 room two story house with the latest finds of a dozen or so talented vendors. Our "Posey Patch" boasts a nice selection of silks, greenery & containers for custom floral designs. Outside in the courtyard, enjoy the large granite fountain, brick walkway and garden décor. Our ever growing selection of healthy plants and herb gardens delight gardeners and make nice gifts when on the way to a party or housewarming
"Staples" always available at Grumbles House include:
Burt's Bees Bridge Tallies & Score Pads
Camille Beckman (new body butter) Tyler Candles (scented)
Cute Cocktail Napkins & Guest Towels Mole Hollow Taper Candles
Metal Plate Racks in several sizes & colors CHOCOLATE!!!
Wood & Metal Easels, Cup & Saucer racks & plate wires
Leanin' Tree, Attic Salt, Patience Brewster & other Greeting Cards
Photo Frames Decorative Flags
Boutique Clothing Brighton-look purses & accessories
Magnetic Mailbox Wraps GREAT Seasonal Décor
Silk Florals Salt Spoons
Antique glassware: vases, serving pieces, dinnerware & pottery
Antique & gently used furniture Quilts - old & new
Nightlights Lamps

Located 2 blocks west of Hwy 41 & 1 block north of Pennsylvania Ave (and Greenlight) on the corner of Cedar and Walnut Streets in the green two story house
We prefer CASH but happily accept Debit, Master Card, Visa & Discover cards.

HOURS: Open Mon. Sat. 10-5 Sundays 12-4.

DIRECTIONS: From the center of Dunnellon at the intersection of highway 41 and 484, go 2 blocks west of 41 on Pennsylvania Ave. to a stop sign. You'll see Greenlight on your left. Turn right and go one block. We are on the NE corner of that first intersection in a 2 story green house. Our physical and mailing address is 20799 Walnut St. Dunnellon, FL 34431. Phone (352) 465-1460 fax (352) 465-6118.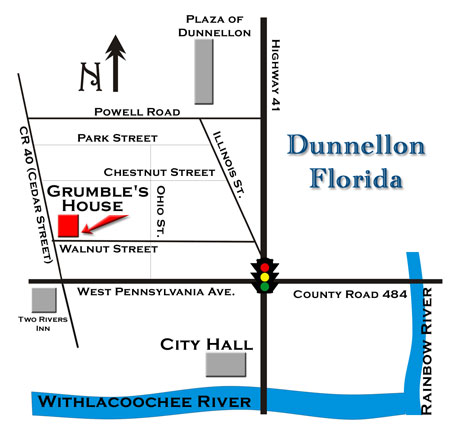 WHY THE NAME "GRUMBLES HOUSE"?
Prior to 1908, John & Mary Grumbles were raising their family" on the compound" at Rockwell (present day Holder) where offices for Dunnellon Phosphate Co. were located. Mr. Grumbles was superintendent of that and most mines in North Central Florida during the phosphate boom at the turn of the century. Although tutored on the compound, when the two oldest girls reached school age, Mr. Grumbles felt they should live in "a proper home" and go to "a proper school". So, he purchased the land, hand-picked the lumber and had the 4 bedroom, 2 bath home with 5 fireplaces & transom windows built where we enjoy it today.

The family of 6 moved in during 1908 when Dorothy was just three (blondie w/white hair bow in front on trike). A younger brother, Henry, with "beautiful auburn hair" was born in the master bedroom where Mr. Grumbles later died. The family moved to Jacksonville in the late 1930s as the girls went off to college at FSU, then an all girls college.

We have been fortunate enough to entertain Dorothy several times and hear her wonderful stories of growing up here before her death in May of 2006 at the age of 99. We felt it an honor to name our business "The Grumbles House" after the family who built and lived life in this old house.
Grumbles House Antiques & Specialty Shops
20799 Walnut St.
Dunnellon, FL 34431
Phone (352) 465-1460

Be sure to visit Dunnellon Florida
and Rainbow Springs